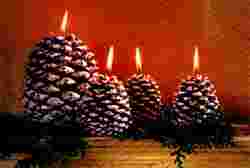 <!ga5linkunit>


FESTIVE CHERRY ALMOND CAKE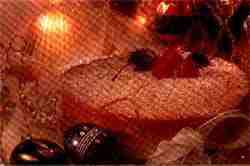 Don't let Christmas catch you by surprise. Plan ahead and avoid the Christmas rush. This Festive cherry almond cake is great gift. Create truly memorable cake for holiday entertaining. Instructions are easy to follow and no professional equipment is needed. Start preparing for the Christmas right now. Real Cooking will give you a head start on having very merry Christmas.

Ingredients:
2 cups all-purpose flour
1 cup (250 mL) red glace or maraschino cherries, quartered
2 Tbsp. (30 mL) ground almonds
2 tsp. (10 mL) baking powder
1/8 tsp. salt
1 tsp. (5 mL) almond extract
3/4 cup butter or margarine, softened
3/4 cup sugar
4 eggs
1/3 cup sour cream
Sauce:
1 cup (250 mL) milk
1 cup 10% cream
6 egg yolks
1/4 cup sugar
1 Tbsp. butter
1/2 tsp. vanilla extract


Preparation Method:
Grease 8-inch (20 cm) round cake pan.
Line bottom with waxed paper and grease again.
Dry cherries a bit with paper towel.
On long sheet of waxed paper, combine flour, almonds, baking powder and salt.
Add cherries and toss until pieces are well coated. Set aside.
Preheat oven to 325 F (160 C).
Using an electric mixer or food processor, beat butter, almond extract and sugar until light and fluffy.
Beat in eggs one at a time, beating well after each addition.
Stir in dry ingredients and cherry mixture in three additions, alternately with sour cream.
Spread batter into prepared pan.
Bake about 1-1/2 hours, or until toothpick inserted in center comes out clean.
Place on wire rack and cool for 10 minutes.
Turn cake onto rack and cool completely.
Garnish with icing sugar and cherries on the top.

For Sauce:
In a medium bowl, beat 6 egg yolks with sugar until well blended.
Use a medium saucepan and heat 1 cup milk and 1 cup cream, without boiling.
Stir milk mixture gradually into the yolks.
Return mixture to saucepan.
Cook over medium heat, without boiling until thickened, stirring constantly.
Remove from heat and stir in 1 Tbsp. butter and 1/2 tsp. vanilla extract.
Cool and serve over cake.

<!ga4search>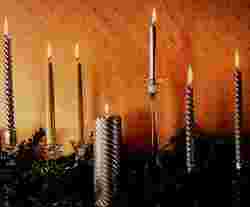 Browse Recipes:
Cakes, Tortes, Tarts & More...
The Great Cookie Treasure
Breads, Muffins, Biscuits...

More Cookies & Related
Pies & Pastry
Baking Powder Breads


Great Cookbooks:
Southern Living
Christmas Cookbook
A perfect Christmas gift or guide for your entertainment. Pretty enough to put out on the coffee table and packed with scrumptious recipes, decorating tips, and entertaining know-how, its innovative holiday fare includes breakfast anytime, Christmas munchies, and add-a-dish recipes for surprise guests.
Pretty Party Cakes: Sweet and Stylish Cakes and Cookies for All Occasions
Want lovely cake or cookie? This great book will give you selection of stylish cakes and cookies for all occasions.
A Rich, Deliciously Satisfying Collection of
Breakfast Recipes
A treasure of mouth watering breakfast recipes to prepare and enjoy for many years to come. Included are: egg dishes, red-eye, sausage gravy & light buttermilk biscuits, hot ceral, fried green tomatoes, flavored drinks, quick breads & muffins, yeast breads & pastry, homemade jellies, jams, marmalades, preserves and conserves...