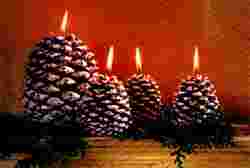 Sacher Torte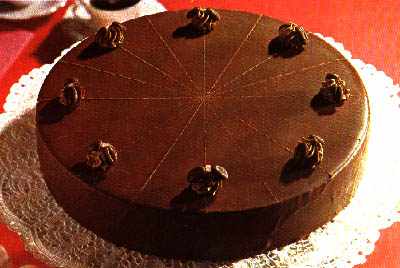 Christmas and baking are synonymous. Baking recipes for eating and decoration, for keeping and giving which is perfect for every cook. Nothing smells better than fresh baked cookies during the holiday season. With this classic Sacher Torte recipe, you can create delightful holiday cake for your family and friends.

Ingredients:
5 oz. ( 150 g ) butter
5 oz. ( 150 g ) icing sugar
5 oz. ( 150 g ) chocolate
5 oz. ( 150 g ) all-purpose flour
6 eggs
1 tablespoon rum
1 tablespoon water
3 to 4 tablespoons apricot jam

Preparation Method:
Prepare round cake tin size 8 inches (20 cm).
Sift all-purpose flour twice.
Separate egg yolks and whites.
Cream butter with 4 oz.of icing sugar.
Melt chocolate with 1 tablespoon of water (chocolate must be soft but not hot). Add egg yolks and melted chocolate gradually to butter and sugar mixture. Add 1 tablespoon rum to mixture and stir lightly.
Preheat oven to 350 F (180 C).
Whisk egg whites until stiff with 1 ounce icing sugar. Put beaten egg whites into remaining mixture alternately with the all-purpose flour.
Bake in buttered and floured round cake tin for about 50 to 55 minutes.
When baked cool 2 minutes, than remove to cooling rack.
Spread 3 to 4 tablespoons of warmed apricot jam over cold cake and put chocolate icing on the cake.

For Chocolate Icing:
5 oz. ( 150 g ) chocolate
4 oz. ( 120 g ) granulated sugar
1/4 cup of water
1/4 teaspoon melted butter

Icing Preparation:
1. In a saucepan dissolve 4 oz. granulated sugar in a 1/4 cup of water and than bring to boil.
2. Brush the sides of the saucepan with a brush dipped in cold water to prevent crystals forming.
3. Cook to " small thread " stage, than remove from fire and leave to cool.
4. Melt 5 oz. ( 150 g ) chocolate until soft but not hot.
5. Add lukewarm sugar into melted chocolate, than add a 1/4 teaspoon melted butter into chocolate icing and stir well.
6. Put chocolate icing on the cake.

NOTE: Thickness of the chocolate icing must be equal that of the apricot jam.

Serve next day with whipped cream if desired.

Kaiser Bakeware Noblesse
8-Inch Springform Pan


Nordic Ware Bundt Cake
Keeper, Clear


OXO Good Grips
Flour Sifter


iSi Dessert Whip-Pint,
Brushed Aluminum


iSi Cream Whipper
Chargers, N20-24 Pack

ORKA Silicone
Oven Mitt, Blue

<!ga4search>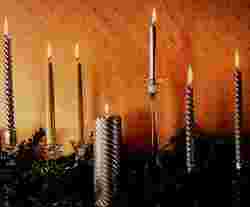 Browse Recipes:
Cakes, Tortes, Tarts & More...
The Great Cookie Treasure
Breads, Muffins, Biscuits...

More Cookies & Related
Pies & Pastry
Baking Powder Breads


Great Cookbooks:
Southern Living
Christmas Cookbook
A perfect Christmas gift or guide for your entertainment. Pretty enough to put out on the coffee table and packed with scrumptious recipes, decorating tips, and entertaining know-how, its innovative holiday fare includes breakfast anytime, Christmas munchies, and add-a-dish recipes for surprise guests.
Pretty Party Cakes: Sweet and Stylish Cakes and Cookies for All Occasions
Want lovely cake or cookie? This great book will give you selection of stylish cakes and cookies for all occasions.
A Rich, Deliciously Satisfying Collection of
Breakfast Recipes
A treasure of mouth watering breakfast recipes to prepare and enjoy for many years to come. Included are: egg dishes, red-eye, sausage gravy & light buttermilk biscuits, hot ceral, fried green tomatoes, flavored drinks, quick breads & muffins, yeast breads & pastry, homemade jellies, jams, marmalades, preserves and conserves. Learn how to design a Breakfast Gift Baskets and fill it with homemade items such as gourmet coffee mixes, and flavored syrup plus much more. Also learn how to bake fruit breads and muffins in a jar that will last twelve months in the freezer."
Cooking Light 2006 Annual Recipes (Hardcover)
Seasoned and novice cooks alike love this all-around resource for everything cooking-related: tips, techniques, planning, preparation, presentationits all here, and in the lighter versions we all crave.