GLOSSARY OF BUSINESS AND FINANCIAL TERMS
K
KEY AGREEMENT PROTOCOL - A protocol whereby two people can agree on a key in such a way that both influence the outcome. If properly done, this precludes a third-party from forcing a key choice on the communicating parties.

KICKER - A slang term referring to an essential part of an agreement required by one party to the transaction over and above usual terms relating to a specific service or product.



BACK



Office Software Suite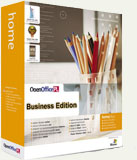 Open Office Features:
Create & edit Word, Excel & Powerpoint files
Reads and writes PDF files just like Adobe
All the features of MS Office & much more...
Bonus Anti-virus program
8 weeks premium support
And much much more ...