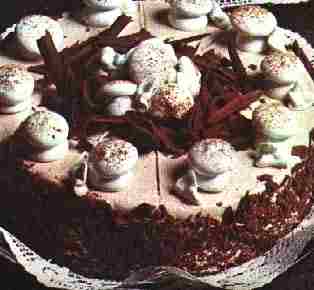 Ingredients:
2 cups (500 mL) all-purpose flour
1/2 cup unsweetened cocoa
2 tsp. baking powder
1/4 tsp. salt
6 eggs
2 cups (500 mL) sugar
1/3 cup (75 mL) skim milk
1 tsp. (5mL) vanilla extract
1-1/2 cups chocolate crumbs and curls
Chocolate cream

For Chocolate Cream:

1 cup (250 mL) butter or margarine (softened at room temperature)
1 cup icing sugar
1 Oetker Chocolate Pudding mix
1/2 cup semi-sweet chocolate; melted
1 cup whipping cream

Cake Preparation:
1. Mix and sift together: flour, cocoa, baking powder and salt; set aside.
2. Grease and flour two 9-inch (23 cm) molds.
3. Separate eggs, then place whites in one large bowl and yolks in other large bowl.
4. Preheat oven to 350º F (180º C).
5. Beat egg whites with an electric mixer at high speed until foamy. Beat in 1/2 cup of sugar, 1 tbsp. at a time until meringue forms soft peaks.
6. Beat egg yolks until thick, then beat in 1-1/2 remaining sugar and vanilla extract.
7. Beat 1/3 cup skim milk into egg yolks mixture.
8. Add sifted dry mixture all at once, then fold in. Using a rubber scraper or mixer (at very slow speed), turn batter over and over gently until flour is blended in completely.
9. Using a rubber scraper add egg yolks mixture to meringue; working with a light touch to keep the mixture fluffy.
10. Pour mixture into prepared molds.
11. Bake cakes 20 to 25 minutes or until toothpick comes out clean when inserted.
12. Place on wire rack and cool for 5 minutes.Turn cake onto rack and cool completely.
13. Level the top of each cake and place on working table. Slice each cake on half (total 4 layers).
Cream Preparation:

1. Prepare chocolate pudding mix according to the package directions using only 1-1/4 cup milk.
2. Add melted chocolate into warm pudding and chill at room temperature.
3. Mix together butter and icing sugar until fluffy.
4. Fold in prepared pudding when cool completely. Mix well and refrigerate at least 3 hours.
5. Whip the cream and refrigerate. Add whipped cream to chocolate cream and mix carefully.Refrigerate cream at least 30 min. before use.
To decorate cake as pictured:
1. Spread filling between layers and on top of each layer.
2. Cover the sides of the cake with filling and sprinkle the sides with chocolate crumbs.
3. Attach
mushroom meringues
on the top of the cake and decorate with chocolate curls.