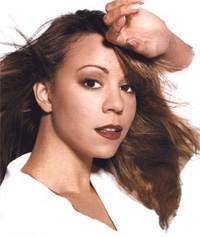 Mariah Carey - Biography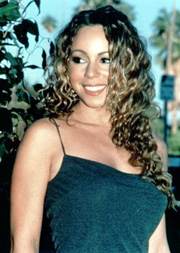 The only artist to have had a #1 single for every year of the 1990's !

Mariah Carey was born in Long Island, New York on March 27, 1970. Mariah Carey seemed born to be a pop star, wielding a soulfully astonishing seven-octave voice while offering a super model look that barely hints at her ethnic origins. "My mother is Irish, my father is black and Venezuelan, and me-- I'm tan, I guess." she says. Mariah took after her mother who was an opera singer in the pursuit of developing her vocal talents. With her mother (a former opera singer with the New York City Opera) as a vocal coach, Mariah Carey began singing at age four. By the time she was in junior high school, she had begun to write songs. She was devoting an inordinate amount of time to singing, so much so that her nickname in high school was "Mirage."

After her high school graduation, she moved to New York City at the age of 17 to pursue a music career. During this time, she was working as a backup singer for various R&B sessions around Manhattan and she also went through a number of waitress jobs getting fired from a number of them, many times for her "attitude". At that time, she also met keyboardist Ben Margulies, with whom she wrote many of her early songs. They spent an endless amount of time together writing and performing. She had a demo tape, but nowhere to go with it. Carey got her first big break, singing backup for Brenda K. Starr, a break that led to her signing with Columbia Records. Brenda K.Starr convinced Mariah to come with her to a record industry party. Mariah brought one of her tapes along. Starr presented a demo tape of hers to Columbia Records chief Tommy Mottola. According to legend, Mottola listened to the tape in his limo while driving home that same evening, and was so immediately struck by Carey's talent that he doubled back to the party to track her down.

After signing to Columbia (now Sony), with Mottola guiding her career, Carey (she was not yet nineteen) entered the studio to begin work on her 1990 self-titled debut LP.

The heavily promoted album was a chart-topping smash, launching no less than four number one singles - "Vision of Love," "Love Takes Time," "Someday" and "I Don't Wanna Cry." Her overnight success earned Grammy awards as Best New Artist and Best Female Vocalist, and expectations were high for Carey's follow-up, 1991's Emotions. The album included a number of dance numbers that pushed her ability to emote. The title track reached number one, and "Can't Let Go" and "Make It Happen" landed in the Top Five.

Her next move was touring. Avoiding the grueling schedules and long periods away from home her concert tours were always very short, very well rehearsed, and always sold out. Her next release was 1992's MTV Unplugged EP. With the success of the show, the video, the album, and especially her version of the Jackson 5's "I'll Be There," Mariah's career was confirmed.
In June of 1993, Mariah got married to Tommy Mottola, some two decades her senior, the man who discovered her and guided her. Months later she released her third full-length effort, Music Box, her best selling record to date (sold more than 24 million copies worldwide).

Two more singles, "Dreamlover" and "Hero," reached the top spot on the charts.
Her November 1994 release - Merry Christmas balanced old Christian hymns and new songs: two original songs were the singles from the album "Miss You Most At Christmas Time" and "All I Want For Christmas Is You."

In 1995, she released Daydream which reflected a new artistic maturity. The first single, "Fantasy," debuted at number one, making Carey the first female artist and just the second performer ever to accomplish the feat. The Boyz II Men collaboration "One Sweet Day" soon followed with a recordbreaking 16 weeks at number one. In 1997 after separating from Mottola, Mariah returned with another great album. Her fans were blessed with album titled Butterfly, another staggering success and her most hip-hop flavored recording to date.

In November 1998, Mariah released her #1's album, a collection of 13 of her chart-topping megahits as well as four brand-new bonus recordings: "When You Believe" (from The Prince Of Egypt), a duet with Whitney Houston; "Whenever You Call," a duet with Brian McKnight; "I Still Believe"; and "Sweetheart." #1's has achieved RIAA triple platinum status.

In 1999 Mariah release album Rainbow her eighth studio long-player. Rainbow featured Mariah's 14th #1 Hot 100 single, "Heartbreaker," which also became her 6th chart-topping R&B single, a very likable piece of bubble-gum R&B with grit borrowed from guest Jay-Z. Another groove-intensive track, the Snoop Dogg duet "Crybaby," is so sly that one hopes the two collaborate again. Rainbow features 13 new tracks written by Mariah Carey. The range of songs embraces a multitude of musical textures - including pop, soul, R&B, hip-hop and gospel - which continue to demonstrate Mariah's ability to shine in a wide variety of genres.
In fact, Mariah Carey is the only artist to have had a #1 single for every year of the 1990's.

Mariah Carey
Mariah - Music
Mariah Carey Books
Mariah DVD Selections
Pictures Gallery Vol.1
Pictures Gallery Vol.2
Pictures Gallery Vol.3



<!ga4search>



Great Buy:
The Emancipation of Mimi
Mariah Carey returns strong, proud and super confident with her brand new release The Emancipation of Mimi!
Early buzz on The Emancipation of Mimi predicted that this would be the disc to mark "the return of the voice"--the voice being that glass-shattering instrument that propelled Carey to bestselling female artist of all time status--and mostly it is. But because of the small army of talent involved in its assembly, the album is way more than just a comeback vehicle.

Rainbow- Mariah Carey
Rainbow, Mariah Carey's seventh studio long-player, is something like a concept album. Its theme is the various stages of the "emotional roller coaster," as she puts it, of her divorce and subsequent rebound. Carey continues to walk the line between streetwise hip-hop soul and adult-contemporary acceptability, with the former not surprisingly offering most of the disc's high points.

Merry Christmas
She's been hailed for her multi octave vocal range--a tool that sometimes detracts from her pop recordings, but actually works quite beautifully in the context of this charming holiday collection.
Fans will surely approve of Carey's renditions of slinky secular songs like "Christmas (Baby, Please Come Home)" and a nicely subdued "All I Want for Christmas Is You." But where she really surprises is in her unadorned delivery of a passel of traditional carols, highlighted by "Silent Night" (which she sings quietly, avoiding the temptation to wail those high notes) and "Jesus, Oh What a Wonderful Child." A must for diehards, and a pleasant surprise for the unconverted.

Greatest Hits
Mariah Carey
Mariah's five-octave, pop/R&B stylings set the diva standard. Greatest Hits culls its offerings from Carey's five albums on Sony (she is now signed to Virgin), and you get all the facets of her platinum-plus sound.