Boating Tips & Info

Most new boaters go to sea without prior knowledge of the cruising lifestyle and its demands. This can result in conditions ranging from the merely inefficient to the truly tragic.
Learn more about becoming a safe, responsible boater. Do the first step and find out more about boating organizations in your area. Join them and learn everything you can.
Before leaving make sure that your boat is in good working condition and properly equiped with required safety equipment onboard.
Find out informations about weather forecast, local hazards and places where you will be able to refuel fuel for the planed trip.
BOATING TIPS:
Wear your lifejacket or any other personal floating device, there are many reasons to do that. Make sure it's right size, don't buy to large - it's unsafe.
Children should always wear lifejacket or any other personal floating device when they are on docks or around water.
Before leaving make sure that your friends, relatives or neighbours know where you are going, when you'll be back and what your boat looks like.
Find proper marine charts for the area and don't ride after dark or in reduced visibility.
Make sure you have first aid kit, radio, proper tools and spare parts.
Respect the speed limits and other restrictions and navigate with care. Avoid wake jumping and passing close to other boats.
Newer allow other people to use your boat until you show them how to use it properly.
Water temperature of rivers, oceans and lakes increases only a few degrees during the summer and falling overboard can be dangerous at any time of year.
Water absorbs heat about 25 times faster than air. Knowing what to do will help you to survive.
If your body can't maintain a normal temperature you will become hypothermic.
It is very important to stay calm, panic wastes valuable energy needed to keep you warm.
Keep your body out of water as possible, because water cools your body faster than air does.
Try to stay with your vessel, because swimming to shore can use up too much energy needed to keep you warm.
RECOMMENDED BOOKS:



Safety Preparations For Cruising

- In his book Safety Preparations For Cruising, Jeremy Hood utilizes his years of personal experience to teach safety measures and prudent seamanship to would-be cruisers so they can set out on a vessel designed or altered with their well-being in mind, aware of potential risks, familiar with possible solutions, and possessing increased self-reliance with which to minimize or resolve problems.

The Onboard Medical Handbook: First Aid & Emergency Medicine Afloat

- More than a first-aid manual, this down-to-earth guide tells how to treat virtually every type of injury and ailment one might encounter at sea, in quieter times, relevant maritime anecdotes will instruct and amuse readers. Quick-reference first-aid procedures and a cross-referenced index help find

topics fast. Dr. Paul Gill tells how to assemble a complete shipboard medicine chest and treat everything from shock and fractures to poisoning and lightning strikes. Even childbirth, pediatrics, and sleep deprivation are covered in this seaworthy guide.

The Complete Sailor: Learning the Art of Sailing (Paperback)

by David Seidman

-

"Sailing is not a science that can be practiced with precision..."

This is a very good reference book for advanced beginners and intermediate sailors with. Easy to read style and great and instructive illustrations.



Getting Started in Powerboating

- A friendly beginner's guide that concentrates on what you need to know when you first take the helm. Bob Armstrong tells you how to dock any boat under any conditions of wind, current, and crowding, and how to leave a slip with a minimum of fuss. He explains how to handle docklines, how to execute close-quarters maneuvers, how to anchor, run inlets, adjust trim for a better ride, and cope with heavy weather. He offers hints for judging the quality of a boat, tips for quick mastery of a boat you've never handled before, and an expert's views on the types of powerboats available--from runabouts to motoryachts to houseboats, jetboats, and catamarans--and what to expect from each.

Quick and Easy Boat Maintenance: 1,001 Time-Saving Tips -

Sandy Lindsey, regular columnist for Boating Magazine, delivers fast, simple, creative tips for every boat-maintenance need. These proven labor-savers can help every boater spend more time on the water, and a lot less on maintenance chores. Culled from the best of thousands of questions and answers published in Boating over the years, these helpful hints will be useful to all boaters





Chapman's Nautical Guides: Boating Etiquette

- A complete and useful guide to every aspect of boating customs, from yacht-club practices to passing courtesies, from what types of flags to fly and how and where to display them to having or being a guest on board a boat. Illustrated.



About the Author

If you want to find more travel info, visit

Romwell Travel Advisory. Maya Gavric wrote this article. She has been working, researching and reporting on the Internet for years. Her numerous articles offer valuable insight and tips on wide variety of topics. She contributes a lot to the www.romwell.com, she is also entrepreneur, freelance writer, consultant, realtor, web developer, artist and marketing coach.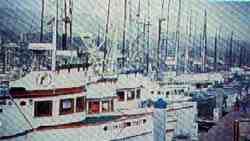 Boating Links on the Web
SARSAT/NOAA - International search and rescue website with excellent information about emergency beacons, satellites, rescue coordination centers, and lots of other info. NOAA operates the Search & Rescue Satellite Aided Tracking (SARSAT) System to locate those in distress almost anywhere in the world at anytime and in most conditions.
Bestselling Travel Books
Looking for a dazzling debut novel, a thrilling page-turner, or maybe you just like dreaming about far-away places.

Travel Apparel & Accessories


Find the best selling

travel

apparel and accessories.



Bestselling Luggage




Browse huge selection of great

luggage

and more.



Bestselling Travel Guides


Take a look at great travel guides and find out which one you like.

Buy Great Travel Accessories
Find great selection

of travel accessories, adapters, chargers and related electronic...



Buy Quality Digital Cameras




Capture brilliant images instantly, we have listed the top

digital cameras

for you.



Buy Bestselling

Optics
For your travel, hunting or for bird watching we have large selection to help you with...



Deals In Camping & Hiking



Find excellent deals and enjoy great outdoors...