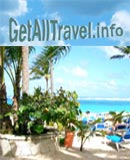 Fundy National Park of Canada - New Brunswick - Canada - Discover A Multitude Of Incredible Trail Experiences
Fundy National Park is a beautiful place, where the green Caledonia Highlands meet the great tides of the Bay of Fundy. Hiking is one of the most popular activities in Fundy National Park. With almost 125 km of trails, there's bound to please everyone. Self guided trails are well maintained and great to enjoy. The highlands of the Fundy National Park descend fairly 382 meters to the Bay and the small rivers that flow through the Park tumble and cascade as they drop to the sea, so waterfalls are common.



Self-Guided Trails, Viewpoints & Signs:



Visit Third Vault Falls on the Third Vault Falls Trail, the highest waterfal in the Park (16 metres). Upper Vault Brook eventually feeds its clean water into the Upper Salmon River, home to an endangered population of Inner Bay of Fundy Salmon and the focus of a major recovery effort by the park.
Laverty Falls is the second highest waterfall in the Park and an easier hike.

Dixon Falls is the easiest and quickest waterfall to visit with a 1.5 km loop that takes you to a waterfall.
Caribou Plain is an easy 3.4 km loop through bogs and the Acadian forest.
Kinnie Brook is a moderate 2.8 km trail through a rocky river valley with a mysteriously vanishing stream.
Devil's Half Acre is an easy 1.3 km loop that offers a glimpse of Fundy's geology.
Shiphaven is an easy 1 km trail that tells the story of the lumberjacks and the Atlantic Salmon.
At the Alma Beach boardwalk see the tide exhibit, tidepole and tidal flats.
At the Herring Cove focus on marine life and Fundy's history.
At the Point Wolfe learn about the peregrine falcons.

Other Activities:



They are also many amazing activities happening every day at Fundy National Park, check the visitor center or the Activity Schedule on Park buletin board.

Fundy National Park have a fair size, heated saltwater pool, which is open daily from June 22 to September 02. The pool is located at the Point Wolfe Road.

Some of the Park's lakes are open to non-motorized craft. At Bennett Lake you can rent canoes, rowboats and kayaks.

If you are interested in fishing, Brook trout season is open May to September, and you can buy required fishing permit at Bennett Lake.

The golf course is open from middle May to middle October. You will have to call the Pro Shop to reserve your tee-off time. They also have equipment and golf carts for rent.

If you are interested in tennis or lawn bowling, equipment rentals is available at Pro Shop. Tennis courts and playgrounds are located in the Headquarters area.
Related Links: