Canada's Wapusk National Park on the shores of Hudson's Bay in the north-eastern corner of Manitoba is remote and access is available only through a handful of approved commercial tour operators. The effort involved in getting there pales in comparison to the thrill of watching polar bear mothers wrestle with their cubs in the snow just metres from your big-wheeled Tundra Buggy.

The park is one of the biggest polar bear denning sites in the world, drawing scientists from around the globe to study the bears and the effects of climate change on the environment.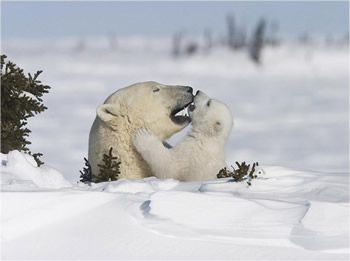 © Parks Canada

Beyond the bears are found the remnants of 3,000 years of Inuit, Dene and Cree culture, as well as many of the roots of modern Canada. The region was the epicentre of the fur trade for 250 years, and home to the Hudson's Bay Company that played a dominant role in the country's economic and political development. The massive stone fortifications of Prince of Wales Fort National Historic Site recall the rivalry between the great superpowers of the time, England and France.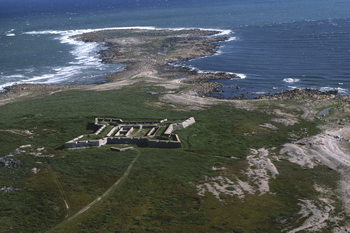 Image: Arial view of Prince of Wales Fort National Historic Site at the mouth of the Churchill River
© Parks Canada
A visit begins in the colourful gateway community of Churchill. Be sure to check in to the Parks Canada Visitor Centre for special presentations that showcase park history, as well as talks and workshops by visiting scientific researchers who bring the area to life.
Wapusk National Park of Canada
Prince of Wales Fort National Historic Site of Canada
Printable version (PDF, 312 Kb)