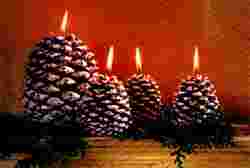 <!ga5linkunit>


BELL COOKIES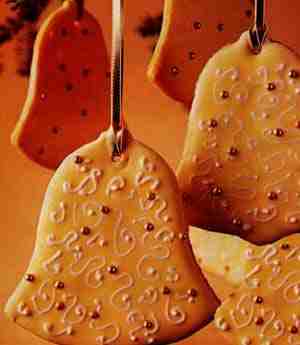 Christmas and cookies are synonymous. Cookie recipes for eating and decoration, for keeping and giving which is perfect for every cook. Nothing smells better than fresh baked cookies during the holiday season. Using this classic cookie dough and different cookie cutters, you can create delightful holiday ornaments that are simple even for kids to make.

Ingredients:
1/2 cup butter, softened
2/3 cup granulated sugar
1 large egg
1 egg yolk
1 tsp. vanilla extract
1 tsp. lemon juice
2 cups all-purpose flour
1/4 tsp. baking powder
1/8 tsp. salt
You will also need:
Royal Icing
Food coloring
Gold dragees
Gold ribbon

Preparation Method:
Stir together flour, salt and baking powder.
In medium-size bowl cream butter and vanilla.
Gradually beat in sugar and eggs until light and fluffy.
Reduce speed to low and gradually beat in flour mixture.
Gather dough into a ball, flatten to a 5-inch round, and wrap in plastic.
Refrigerate dough at least 50 minutes or overnight.
When dough has chilled, lightly grease 2 baking sheets.
Preheat oven to 325 F (160 C).
Cut dough round in half.
Cut 2 pieces of waxed paper the same size as baking sheets.
Lightly flour waxed paper and place one sheet on table or counter, floured side up.
Place one half of dough in center and top with other waxed paper, floured side down.
Roll out dough between paper to 1/8-inch thickness and remove top piece of sheet from dough.
Using 4-inch bell shape cookie cutter, cut out as many cookies as possible, leaving 1/2 inch between each shape, and remove all trimmings.
Invert waxed paper with cookies onto greased baking sheet and peel off waxed paper.
Repeat with remaining half of cookie dough to fill second baking sheet.
Press all trimmings together and reroll between floured waxed paper.
If making cookies to use as hanging ornaments, use a toothpick to pierce a small hole (about 1/2-inch from top center of each cookie).
Bake cookies 10-12 minutes or until just golden at edges.
Cool cookies 5 minutes on baking sheets and remove to wire racks to cool completely.
To decorate cookies as pictured use a pastry brush and paint the front of cookies with a thick coat of yellow Royal Icing (avoid pierced holes).
While yellow icing is still wet, using white icing in decorating bag, top yellow icing with loops and swirls of white icing.
Scatter 10-12 gold dragees over each bell and set aside to dry.
Attach gold ribbons to hang cookies like ornaments from tree.
To store, arrange cookies in a single layer in airtight container.
* If cookies are to be displayed only and not eaten, they can be baked and decorated up to one month ahead.
* If cookies are going to be displayed and eaten, prepare and store up to a week ahead, displaying only a few hours before eating.

ROYAL ICING
Ingredients:
1/2 lb (225 g) icing sugar
1 egg white
1 tsp. lemon juice
1/4 tsp. cream of tartar

Put the sugar and cream of tartar into a basin and add egg white.
Stir with a wooden spoon to make creamy consistency.
Add lemon juice and stir well.
Stir well but avoid beating which causes air bubbles.
If colored icing is required, add food coloring.
Save some icing before coloring (for white decorating).
If icing has to heavy consistency add 1-2 Tbsp. hot water and stir well.
If cookies are to be eaten, do not use egg white; use 3 Tbsp. almost boiling water instead.
To avoid egg whites you can use meringue powder and follow package directions for Royal Icing.
NOTE: Meringue powder and gold dragees are available from baking distributors.

<!ga4search>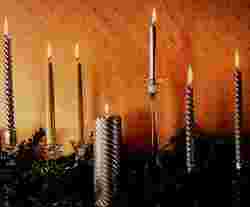 Browse Recipes:
Cakes, Tortes, Tarts & More...
The Great Cookie Treasure
Breads, Muffins, Biscuits...

More Cookies & Related
Pies & Pastry
Baking Powder Breads


Great Cookbooks:
Southern Living
Christmas Cookbook
A perfect Christmas gift or guide for your entertainment. Pretty enough to put out on the coffee table and packed with scrumptious recipes, decorating tips, and entertaining know-how, its innovative holiday fare includes breakfast anytime, Christmas munchies, and add-a-dish recipes for surprise guests.
Pretty Party Cakes: Sweet and Stylish Cakes and Cookies for All Occasions
Want lovely cake or cookie? This great book will give you selection of stylish cakes and cookies for all occasions.
A Rich, Deliciously Satisfying Collection of
Breakfast Recipes
A treasure of mouth watering breakfast recipes to prepare and enjoy for many years to come. Included are: egg dishes, red-eye, sausage gravy & light buttermilk biscuits, hot ceral, fried green tomatoes, flavored drinks, quick breads & muffins, yeast breads & pastry, homemade jellies, jams, marmalades, preserves and conserves. Learn how to design a Breakfast Gift Baskets and fill it with homemade items such as gourmet coffee mixes, and flavored syrup plus much more. Also learn how to bake fruit breads and muffins in a jar that will last twelve months in the freezer."
Cooking Light 2006 Annual Recipes (Hardcover)
Seasoned and novice cooks alike love this all-around resource for everything cooking-related: tips, techniques, planning, preparation, presentationits all here, and in the lighter versions we all crave.