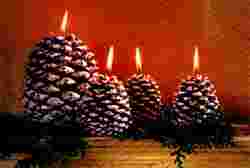 <!ga5linkunit>


MUSHROOM MERINGUES
Mushroom meringues - Decorate your cake with mushroom meringues and create truly memorable cake for holiday entertaining or gift-giving. Our page offers detailed recepi and step-by-step instructions for these old time favorites.

Ingredients:
2 egg whites
1/8 tsp. cream of tartar
1/2 teaspoon almond extract
2/3 cup sugar
1/4 cup semi-sweet chocolate pieces

Preparation Method:
Grease two large cookie sheets and flour lightly.
Beat egg whites and cream of tartar until foamy and double in volume, than add almond extract and sugar (1 tbsp. at a time) beating until sugar dissolves completely.
Attach # 10 plain tip to a pastry bag.
Spoon meringue into pastry bag.
To make mushrom cups: press out meringue in 1-1/2 inch rounds; smoth top of each with a knife, but don't flatten.
To make steams: hold pastry bag upright, then press out meringue, pulling straight up on bag for about 1-1/2 inches.
Bake in very slow 250 F (120 C) 30 minutes or until firm, but not brown.
Let stand several minutes, than loosen carefully with a knife; remove to wire racks with spatula and cool completely.
Melt a chocolate; than working very carefuly make a small hollow in the underside of each cap. Fill hollow with melted chocolate and press steam into hollow.
Let stand until chocolate is firm. Sprinkle tops with cocoa. Store in a tightly covered container in a dry place.

<!ga2>

<!ga4search>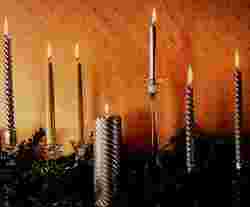 Browse Recipes:
Cakes, Tortes, Tarts & More...
The Great Cookie Treasure
Breads, Muffins, Biscuits...

More Cookies & Related
Pies & Pastry
Baking Powder Breads


Great Cookbooks:
Southern Living
Christmas Cookbook
A perfect Christmas gift or guide for your entertainment. Pretty enough to put out on the coffee table and packed with scrumptious recipes, decorating tips, and entertaining know-how, its innovative holiday fare includes breakfast anytime, Christmas munchies, and add-a-dish recipes for surprise guests.
Pretty Party Cakes: Sweet and Stylish Cakes and Cookies for All Occasions
Want lovely cake or cookie? This great book will give you selection of stylish cakes and cookies for all occasions.
Cooking Light 2006 Annual Recipes (Hardcover)
Seasoned and novice cooks alike love this all-around resource for everything cooking-related: tips, techniques, planning, preparation, presentationits all here, and in the lighter versions we all crave.