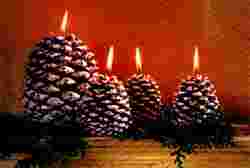 <!ga5linkunit>


STUFFED TURKEY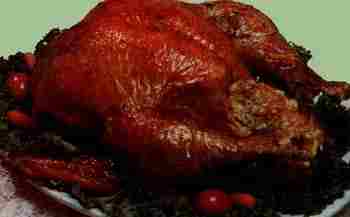 Roast Stuffed Turkey - Magnificent on the platter, golden brown and crusty with delicious stuffing too. Delicious and easy to prepare, this is the perfect recipe for Christmas celebrating. We prepared detailed step-by-step instructions for this mouth-watering Christmas recipe. Nothing smells better than home cooking during the holiday season. Happy Holidays!

Ingredients:
1 whole 10 to 12 pounds turkey (5-6 kg)
juice of 1 lemon
poultry seasoning, to taste
ground black pepper, to taste
paprika, to taste
meat thermometer
Note: If you want to prepare turkey in microwave oven, place stuffed turkey in cooking bag and put in microwave baking dish. Cook according to Turkey Microwave Timetable.
Ingredients For Stuffing:
2 Tbsp. butter or margarine
1/4 cup onion, finely chopped
1/4 cup celery, chopped
1/2 cup mushrooms, sliced
1 pound (500 g) ground lean veal or chicken
2 Tbsp. parsley, chopped
1 garlic clove, finely chopped
2 cups cooked rice
1/4 cup chicken broth
1 tsp. poultry seasoning
1/2 tsp. ground ginger
salt, to taste
ground black pepper, to taste
1/2 cup butter or margarine, melted

Preparation Method:
Clean and dry the turkey, brush skin with lemon juice and season to taste; set aside.
In a large skillet or wok sauté onion in butter for few minutes, add celery and mushrooms and sauté for few more minutes.
Add ground meat and saute for 4 to 5 minutes, add parsley and garlic and continue cooking for few more minutes.
Remove from heat and add cooked rice, chicken broth, poultry seasoning and ginger.
Cook for 3 to 5 minutes, add pepper to taste and add salt if needed.
Let stuffing stand for 15 minutes.
Rub large cavity with salt and spoon in stuffing.
Shake turkey to settle stuffing; do not pack.
Saw cavity, tie drumsticks securely to tail and press wings to body.
Set oven at 325 F (165 C).
Place turkey breast up on rack in roasting pan and leave in this position for entire roasting time.
Grease skin thoroughly with melted butter.
If you use thermometer, insert it in the center of the inside thigh muscle adjoining the cavity.
Cover turkey with loose "cap" of foil; avoid having it touch top or sides, this will prevent too stick to the turkey.
Roast according to Turkey Roasting Timetable or until meat thermometer register 190-195F.
When turkey is about two-thirds done according to timetable, remove foil and cut cord or band, so heat can reach inside of thighs.
If you have any extra stuffing, bake stuffing (covered) the last half hour of roasting and baste occasionaly with pan drippings.
About 15 minutes before roasting time is up, test doneness. Turkey should feel soft and drumstick should move up and down easily.
When turkey is done, remove from pan to warm plater and keep on warm place until you prepare gravyfrom pan drippings.

Carving Tips:
Let turkey stand 20-25 minutes, because carving is easier and slices are neater.
First carve drumsticks; hold drumstick with fingers, cut the joint joining the leg to the blackbone. Put meat on plate and cut the joint to separate drumstick from thigh. You can than slice drumstick and the thigh parallel to bone.
Hold wing with fingers and make a cut to cut the joint with part of white meat.
To cut white meat, make cut into breast starting halfway up breast and thinly slice white meat down.
Than take stuffing from opening where leg was removed.

<!ga4search>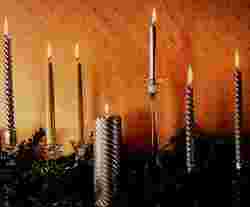 Browse Recipes:
Cakes, Tortes, Tarts & More...
The Great Cookie Treasure
Breads, Muffins, Biscuits...

More Cookies & Related
Pies & Pastry
Baking Powder Breads



Great Cookbooks:
Southern Living
Christmas Cookbook
A perfect Christmas gift or guide for your entertainment. Pretty enough to put out on the coffee table and packed with scrumptious recipes, decorating tips, and entertaining know-how, its innovative holiday fare includes breakfast anytime, Christmas munchies, and add-a-dish recipes for surprise guests.
Pretty Party Cakes: Sweet and Stylish Cakes and Cookies for All Occasions
Want lovely cake or cookie? This great book will give you selection of stylish cakes and cookies for all occasions.
A Rich, Deliciously Satisfying Collection of
Breakfast Recipes
A treasure of mouth watering breakfast recipes to prepare and enjoy for many years to come. Included are: egg dishes, red-eye, sausage gravy & light buttermilk biscuits, hot ceral, fried green tomatoes, flavored drinks, quick breads & muffins, yeast breads & pastry, homemade jellies, jams, marmalades, preserves and conserves. Learn how to design a Breakfast Gift Baskets and fill it with homemade items such as gourmet coffee mixes, and flavored syrup plus much more. Also learn how to bake fruit breads and muffins in a jar that will last twelve months in the freezer."
Cooking Light 2006 Annual Recipes (Hardcover)
Seasoned and novice cooks alike love this all-around resource for everything cooking-related: tips, techniques, planning, preparation, presentationits all here, and in the lighter versions we all crave.