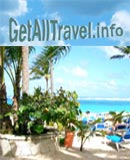 Canyon St. Anne - Cross the Highest Suspension Bridge in Quebec
Cross the highest suspension bridge in Québec, 60 meters (197 feet) above the canyon!

Admire this wonderful setting from other suspended bridges or safe, easy, and secure visitors footpaths. Marvel at the dizzying 80-m (262-ft.) drop of the Sainte-Anne waterfall as it plunges into the Sainte-Anne-du-Nord River far below.

Related Links: