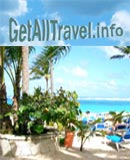 Majestic Quebec City - Outstanding Canadian Destination
Majestic Quebec City is located on one of the largest rivers in the world, the historic St. Lawrence River. With its outdoor pleasures, top-notch accommodations and plenty of entertainment to suit every taste, this wonderful historic city is contagious for every traveler.

Millions of tourist visit Quebec City every year to enjoy the worlds largest Winter Carnival or the city's everpopular Summer Festival. If we add culinary delights people discover here, it is easy to understand why everyone is trying to come back.

Related Links: