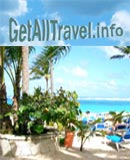 Reversing Falls - St. John River, St. John, New Brunswick

The St. John River starts with a pulse-pounding 76 foot (23 metre) plunge into the Grand Falls George and ends in a collision with the powerful Bay of Fundy tides in the city of Saint John. The force of the tides against the flow of the river creates one of the few places in the world where you can see a river actually reverse its flow at Reversing Falls.

The phenomenon of the Reversing Falls is caused by the combination of wave forces called resonance. Actually, the low tide which is running out of the bay collides with the new, incoming high tide, combining forces to make a higher wave coming in. During the low tide, the 450 miles long St. John River, empties into the bay and between the Fallsview Park and the Pulp Mill, the full flow of the river thunders through a narrow gorge. An underwater ledge, 36 feet below the surface causes the water in the river to tumble downward into a 175-200 foot deep pool below the mill and under the bridge which forms a series of rapids and whirlpools. When the bay tides begin to rise, they slow the course of the river and finally stop the river's flow completely and calm the river completely (slack tide). After the slack tide the bay tides become higher than the river level and slowly, the river begins to flow upstream. As the bay tides continue to rise, the reverse flow gradually increases and the rapids begin to form, reaching their peak again at high tide.