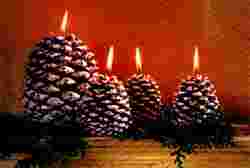 <!ga5linkunit>


Successful Holiday Entertaining
Thinking of entertaining at home? Any of the company dinners, brunches or just breakfasts can be prepared at home almost as easily as an ordinary meals. Your success is not depending upon a great number of dishes, but upon a few well cooked and well served, and a hostess apparently free from care. The number of dishes can readily be increased or diminished. Here you will find recipes for eating and decoration, for keeping and giving which is perfect for every cook. Nothing smells better than fresh cooked meals and home baked goods during the holiday season. Using our classic recipes, tips and ideas you can create delightful tasty holiday meals that are simple to make.


Twelve seems to be a good number of people for a formal dinner party. But very little increase in the quantity of material will be required if the number should be as large as sixteen or eighteen. Fox six or eight the quantity of soup, oysters, creams, sherbets and coffee, can be diminished one-third, but that of meats and seafood should not be much smaller.


People differ as to the kinds of breakfast required. Many believe in the French custom of having only chocolate or coffee, rolls, and perhaps eggs in some form. Again, others believe in and require a substantial breakfast. Griddlecakes, waffles and related make perfect addition to your breakfast table. There is no limit to the variety of dishes that can be prepared for breakfast. You could also use leftovers from the dinner party and prepare something with them. Either oatmeal or hominy should always be served at breakfast. When it is possible, have fruit for the first course.


There is no limit to the variety of dishes that can be prepared for a brunch or afternoon tea, particularly if the hostess has taste and judgment in using the remains of meats, fish and vegetables left from dinner. It is supposed that the coffee, tea or hot chocolate will be served in medium size cups with saucer and milk, cream and sugar should be offered with it. Take a look at our selection of quick and easy Recipes for Easy Brunch.


The Magic Of Coffee - Prepare that special holiday coffee...

<!ga2>

<!ga4search>