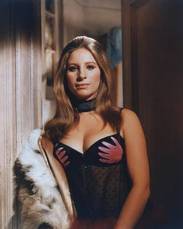 Barbra Streisand (1942) was born in Brooklyn, New York.
After graduating early from high school, she won a singing contest at a Manhattan club and soon developed her own nightclub act.
Her Broadway career began with 1962's "I Can Get It for You Wholesale"; a year later, she landed a recording contract with Columbia. She eschewed frequent touring in favor of more work on Broadway (including 1964's "Funny Girl," the 1967 movie adaptation of which earned her an Oscar) and television specials (which in turn spawned albums). Continuing to act in musicals, comedies, and dramas throughout the 1960s and 1970s, her film work eventually included producing (starting with 1977's A Star Is Born) and directing (1983's Yentl marked her debut). Some 35 years after catching the world's attention with The Voice, and despite frequent accounts of prima donna behavior, Streisand continues to mine success in concert, on record, and on film.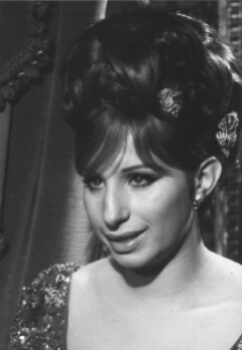 A Star Is Born (1976) VHS
A superstar on the decline meets a young singer on the way up. They marry as their career trajectories intersect, and his eventual demise is meant as a sacrifice to further boost her career by ridding her of the burden of him. Kristofferson's rock & roll numbers are decidedly lousy -- Hollywood's idea of rock music--and Streisand looks good and always sounds fine (she won an Oscar for cowriting the song "Evergreen"). But you can feel her heavy hand guiding every shot; she seems to serve as puppet master for director Frank Pierson, framing every image of herself for maximum glow. The ultimate date flick (if the guy can sit still through it). --Marshall Fine
Barbra Streisand - Putting It Together (The Making of "The Broadway Album") (1986) VHS
The Prince of Tides
(1991) DVD
Streisand's best film as a director is helped enormously by one of Nick Nolte's finest performances. Nolte plays a football coach who is estranged from his wife (Blythe Danner) and who enters into an affair with the psychiatrist (Streisand) of his suicidal sister (Melinda Dillon). Streisand is acceptable in her star turn, but behind the camera she paces the story very well and provides lots of room for Nolte to inhabit his burdened but likable character. --Tom Keogh
Yentl (1983) VHS
Streisand made her directorial debut with this 1983 adaptation of the Isaac Bashevis Singer story about a young Eastern European woman (Streisand) who disguises herself as a male at the turn of the century in order to get an education. Except for an excessive musical score with too many songs and Streisand's tiresome tendency to play characters who suppress their beauty, the film is crisp and engaging, and the gender-bending love story complications are fun, if gimmicky. Streisand gives a smart, vulnerable performance and gets fresh work from costars Mandy Patinkin and Amy Irving.Tom Keogh
On a Clear Day You Can See Forever (1970) VHS
When a psychiatrist (Yves Montand) begins talking to a young woman (Barbra Streisand), he realizes that she can recall a past life while under hypnosis. Although this brash New Yorker is thoroughly modern and somewhat abrasive, he becomes fascinated by the 19th-century English woman who speaks through her. --Robert Horton
Nuts (1987) VHS
Based On A True Story!
Barbara does an amazing job with her performance as Claudia Draper a call girl accussed of murder.
Up the Sandbox (1972) VHS
Funny Girl (1968) DVD
Ah, Barbra. Of all her onscreen personas, she sparkles in none as she does in her role as 1930s comedian Fanny Brice in the musical Funny Girl. Portraying the life of this star of stage and radio, Brice preens and prances and sings, captivating her audience both onscreen and off. Fanny Brice started life on the Lower East Side of New York, the daughter of a Jewish saloon owner. Not the prettiest girl around, Brice still managed to quickly rise to stardom as a performer in the Ziegfield Follies. A shrewd, obstinate woman, Brice dictated her own success story on stage; things were a different matter in romance. Falling hard for the stunning Nick Arnstein (suavely played by Omar Sharif), Brice must navigate a difficult marriage. - Jenny Brown
Order Funny Lady (1975) DVD
Order Funny Lady (1975) VHS
The Way We Were:
Special Edition (1973) DVD
Barbra Streisand & Robert Redford lead the cast as Katie and Hubble, two mismatched lovers who deeply care for each other, but have irreconcilable differences that tear them apart.
The an hour long DVD includes commentary by director Sydney Pollack, documentary featuring interviews with Pollack, Streisand, screenwriter Arthur Laurents and composer Marvin Hamlisch, and the original trailer.
Hello, Dolly! (1969) VHS
Based on Thornton Wilder's play The Matchmaker, this won Academy Awards for best sound, art direction, and musical score.
Streisand is great as Dolly Levy, a New York matchmaker who can find a mate for anyone. Anyone but herself, that is. Determined to marry wealthy Walter Matthau, she lures him out of Yonkers and sets about wooing him.