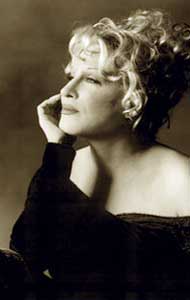 Comedienne, singer and actress Bette Midler was born Dec. 01. 1945 in Honolulu, Hawaii as a member of the only Jewish family in the neighborhood. Bette early on showed an interest in singing and acting. After studying drama at the University of Hawaii, she took a tiny role in the 1965 film Hawaii, playing a missionarys wife who is constantly sick. In the 1996 she moved to New York to try her luck in showbiz, following in the footsteps of her namesake, Bette Davis. While training for her dancing career in New York, she took a role in the chorus and then the featured part of Tzeitel (the eldest daughter), of Broadway's long-running hit musical Fiddler on the Roof, and held that part for three years. After leaving Fiddler OnThe Roof, she performed briefly in the off Broadway musical Salvation, and worked as a go-go dancer in a Broadway bar.
Singing and comedy late at night after the Broadway show was where Bette got her big break.
Bette developed a popular nightclub act that included comedy and singing of a variety of kinds of material, (show tunes, pophits, even a takeoff on The Andrew Sisters). She told dirty jokes and belted out songs in Manhattan's Continental Baths in 1971, and she became a campy cult figure on the local gay scene. She was noticed by an executive from the David Frost show. Her appearances on David Frost's show, The Tonight show, and in nightclubs exploded into hit pop albums. She was signed to Atlantic Records and released The Divine Miss M (1972), which went gold and won her a Grammy Award as Best New Artist.
Her secon album Bette Midler (1973) was similarly successful.
Bette Midler - Music
Bette Midler - Movies
Bette Midler - Books
Bette Midler - Biography
Bette Midler - Gallery 1
Bette Midler - Gallery 2
The Bette Midler album made the US Top Ten, and she received the After Dark Award for performance of the year. After that she released two more albums, Songs for the new Depression, in 1974 and, Broken Blossom in 1977.
Bette's first big movie and first starring role was in the movie "The Rose" (1979), based on the life of rock singer Janis Joplin. Her dramatic performance in that movie earned her an Oscar nomination for Best Actress, and she also won Golden Globe Award for her performance as the Best Actress in a Leading Role-Musical or Comedy.
Two songs, When a Man Loves a Woman, and The Rose, entered the US charts as well as the movie sound track.
1980 saw the release of Midler's concert film, Divine Madness, and her best-selling book, A View from a Broad, a book with her humorous memories of her first world tour.
The movie soundtrack album Divine Madness, entered the US charts and went platinum.
After all big success her career slump began in 1982, when she performed in a black comedy called, Jinxed. Movie was a disaster at the box office, and rumors about violent disagreements between Bette and her co-stars damaged her career. Bette became persona non grata in Hollywood, and suffered from from a nervous breakdown. In 1983 Bette put out a childrens book called, The Saga of Baby Divine.
In 1984 she married Martin Von Haselberg, a former commodities broker, and performance artist. Their first and only child, a girl named Sophi was born in 1986.
The same year Bette began to pick up her career. She signed a long term contract to the Walt Disney Studios, making her comeback in the comedy Down And Out In Beverly Hills (1986), with Nick Nolte and Richard Dreyfuss, Ruthless People (1986) co-starring Danny De Vito, Outrageous Fortune (1987), and Big Business (1988). Bette returned to the drama movies with Beaches (1988), which is also the first movie to be made by her own company.
Movie Beaches gave Bette one of her best roles, and the opportunity to sing songs within the context of the story. Soundtrack from that movie reached a multiplatinum, number two soundtrack, and number one single, Wind Beneath my Wings, the song also won a Grammy. In 1990, she appeared in Stella, a remake of the classic weepie, Stella Dallas. The following year Bette co-starred with Woody Allen in Scenes from a Mall. In 1991, Bette put out another multiplatinum album, Some Peoples Lives, which produced a number two Grammy award ballad From a Distance.
Bette received her second Oscar nomination for her role in movie For the Boys (1991), and soundtrack album from the movie went gold.
In 1992 Good-bye To Johnny Carson was rewarded with an Emmy, and 1993 she won Golden Globe and National Board of Review Awards for her outstanding performance as Rose in a CBS television musical production of Gypsy. That same year she brought a spectacular show Experience the Divine, and that was one of her best if not the best shows. In 1995 she released Bette Of Roses, her first studio album for five years, and that same year she appeared in movie Get Shorty. In 1996 Bette Midler delivered up an uncredited role in The First Wives Club with Goldie Hawn and Diane Keaton.
Then in the following year Bette played another first wife in That Old Feeling (1997). She played wife whose romantic sentiments for her ex-husband are rekindled at their daughter's wedding. Also in 1997 Bette Midler did a concert in Las Vegas called Diva Las Vegas.
In 1998 she put out another gteat album called, Bathhouse Betty.
In 1999 Bette she played in movie Get Bruce, and went on another tour called The Divine Miss Millenium Tour, which started in the fall of 1999 and ended on new years day of 2000 in Las Vegas. She also played in movies; Fantasia (1999/2000), Drowning Mona (2000), Isn't She Great (2000), and What Women Want (2000). In 2000 she also started her own comedy searies, a semi-biographical sitcom called Bette. Also that year she put out another CD called, Bette.
Bette Midler is a pure entertainer and we love her.