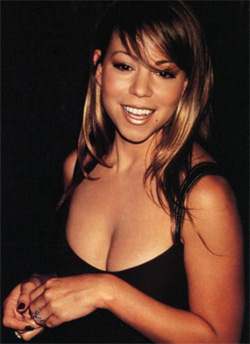 Mariah Carey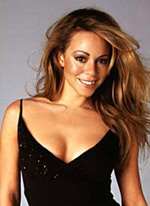 The biggest-selling solo female artist of the '90s is back
Carey is right back to her old tricks; cooing trademark melismatic spirals through sexy, beat-heavy hits.
Mariah doesn't really need an introduction, but it's hard to resist. Mariah is legend in her own time - already selling well over 120 million albums and scoring the top spot with over a dozen Number One singles! Her list of Grammy Awards, American Music Awards, Soul Train Awards and more could fill pages. But sales and honours are merely the results - the bottom line is talent. Mariah does not ride off in a silver coach. Instead, she continues to work hard.

Mariah - Biography
Mariah - Music
Mariah Carey Books
Mariah DVD Selections
Pictures Gallery Vol.1
Pictures Gallery Vol.2
Pictures Gallery Vol.3

Merry Christmas


She's been hailed for her multi octave vocal range--a tool that sometimes detracts from her pop recordings, but actually works quite beautifully in the context of this charming holiday collection.
Fans will surely approve of Carey's renditions of slinky secular songs like "Christmas (Baby, Please Come Home)" and a nicely subdued "All I Want for Christmas Is You." But where she really surprises is in her unadorned delivery of a passel of traditional carols, highlighted by "Silent Night" (which she sings quietly, avoiding the temptation to wail those high notes) and "Jesus, Oh What a Wonderful Child." A must for diehards, and a pleasant surprise for the unconverted.


<!ga2>

<!ga4search>



Great Buy:
The Emancipation of Mimi
Mariah Carey returns strong, proud and super confident with her brand new release The Emancipation of Mimi!
Early buzz on The Emancipation of Mimi predicted that this would be the disc to mark "the return of the voice"--the voice being that glass-shattering instrument that propelled Carey to bestselling female artist of all time status--and mostly it is. But because of the small army of talent involved in its assembly, the album is way more than just a comeback vehicle.
Mariah Carey (Galaxy of Superstars) by Sam Wellman
Presents a biography of one of the best-selling recording artists of the 1990s, whose vocal styles are drawn from gospel and rhythm and blues.