Breads, Muffins, Biscuits, Scones & Griddle Cakes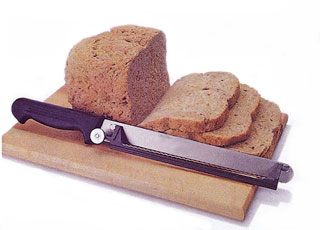 Bread flour usually contains more gluten than pastry flour and is better for bread on that account. Rye flour is next best to wheat flour for bread making, but is generally combined with wheat flour, since by itself it makes a sticky bread.
Pastry flour having less gluten and slightly more starch is more suitable for pastry and cake mixtures and is used wherever softness and lightness are desired.



BROWSE RECIPES:



Recommended Cookbooks
Learn to Eat Healthy is not a traditional diet book with strict rules and limitations. Here you will find great tips and ideas for healthy cooking and good guidelines to control your health, your eating habits and your weight without strict dieting rules. You'll discover that preparing your own food is fun and easy and your healthy diet is delicious. In fact, the main reason why most of those quick fix diets will fail you from the start is because they ignore the way normal people want to live. This book is simply an easy to read and follow guidebook with over hundred, easy to prepare, healthy, and tasty recipes with full nutritional information, and step by step instructions.
More...
You can combine healthy eating with regular physical activity every day for better health.

It is estimated that 30 to 40 % of all cancers can be prevented by eating well, being active and staying at a healthy weight. Adults need 30 to 60 minutes of daily physical activity.

Children should be active for at least 90 minutes a day. Walking, skating, cycling, running, swimming, playing soccer or other sports - it all adds up.